Long Distance Medical Transportation
Long Distance Medical Transportation – 150 Mile Minimum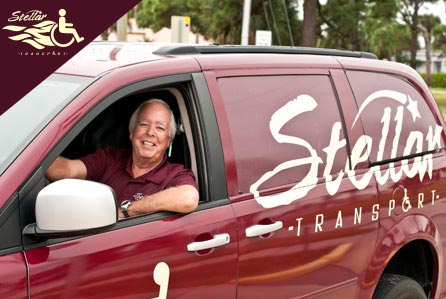 Long Distance Rides – 150 Miles or More
At Stellar Transport we offer 2 main categories of transportation services, local and long distance. Long Distance Transportation is for rides that will be a MINIMUM of 150 miles. We will come pick you up anywhere in the state of Florida and drive you wherever you need to be, even if it is out of state! If you are looking to book a local medical transportation trip CLICK HERE to see our local service page.
Professional Drivers
100%
With You for the Long Haul
We will select the right vehicle from our fleet to make sure your ride is comfortable and enjoyable.  If you need to go to Jacksonville or Miami, we have the right ride for your trip.  
Our Fleet
We have several different styles of accessible vehicles, wheelchair vans and stretcher vans.  They are all fully accessible, with lowered floors and raised ceilings for more ambulatory riders, and also fully loaded with ramps and lifts for wheelchair passengers.  All the vehicles are late-model, 2012 or later, fully loaded and meticulously kept.  We keep all the vehicles up to date on regular scheduled maintenance, and each van is disinfected every day, and professionally cleaned and detailed once a week.  We take care of our vehicles, so our vehicles will take care of our riders!  (
Our Vehicles
)
Our Team
Depending on your situation, needs and preferences, your transport team will consist of up to five attendants.  All of our team members are HIPAA certified, trained in patient and elder sensitivity, defensive driving, and taken a full-day situations and response class.  All of our transporters are drug, alcohol and smoke-free, and we have an incentive system with contests and prizes, which promotes and rewards excellence.  We are focused on your safety, and comfort, and making sure our passengers have a pleasant experience.  We even have a broad music selection in the vehicles for your enjoyment.  
Your Experience
Experience the difference Stellar Transport offers.  
To book a long distance trip, you can give us a call, book online, or send us a message on What's App, and we'll make arrangements to get you to your destination.   (
Contact Us
)