Local Medical Transportation
The Best Local Medical Transportation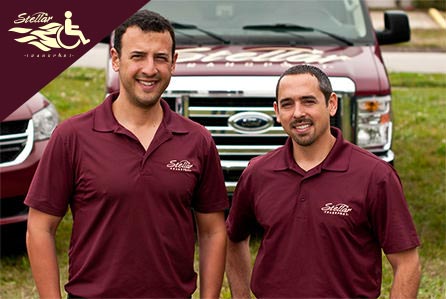 At Stellar Transportation we strive for excellence. We provide local medical transportation to get you where you need to go. Doctors appointments, hospice transportation, handicap transportation, elderly transportation, and more!!! No matter what your needs, we can help.
Professional Drivers
100%
All of our transportation is Non Emergency Medical Transportation.  That doesn't mean we won't take you to the Emergency Room.  If you fall and bump your head, and want a ride to the Emergency Room, but don't need an ambulance, just give us a call.  
If you need an emergency ambulance, please call 911.  
Wherever You're Going
Whether you need a ride to the hospital, a ride home from the hospital, or a round-trip ride to a doctor's appointment, family event, or other destination, let Stellar take care of the arrangements.  Our transporter teams provide safe, comfortable, professional, pleasant "door through door" service.  That means they will come all the way to you, whether you're at home or in a facility.  If you have a wheelchair or stretcher, we'll use yours.  If you don't, we have a fleet of high quality medical transportation accessories available, all top of the line medical wheelchairs and stretchers, professionally maintained and cleaned, for your safety and comfort.  
Your Ride
We have a variety of wheelchair and stretcher vans to accommodate all kinds of needs and situations.  All of our vehicles are new, 2012 model or newer, meticulously maintained, cleaned daily and detailed weekly.  We take good care of our vehicles, so we can take good care of you!   (
Our Vehicles
)
Transport Team
Your transport team will secure you in the vehicle, and deliver you not just to the door of your destination, but all the way inside.  We don't leave until you're comfortably situated in the waiting room and checked in, or in your own home, or wherever your destination is.  
Our transporters are all drug, alcohol and smoke-free, rigorously trained in safety, defensive driving, HIPAA, patient sensitivity, and situation-response.  We have CNAs and off-duty paramedics on staff, and we will match you with the right transporter team for your situation and needs.  
Give us a call, a click, or a message on Whatsapp to find out how Stellar can make your life easier!   (
Contact Us
)